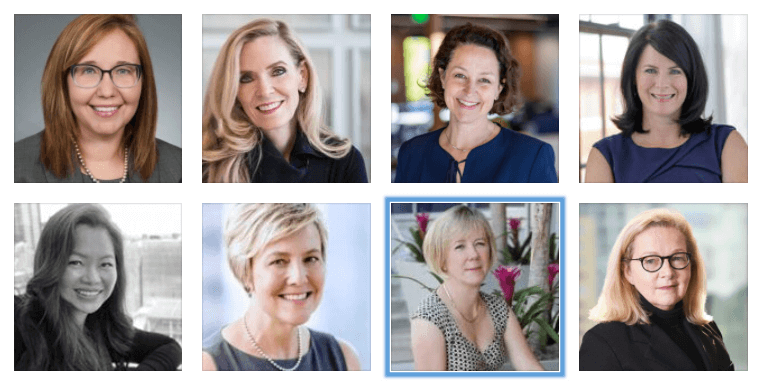 Boston Real Estate Times announced its list of the 10 Outstanding Women of 2021 in Commercial Real Estate. They will be honored on Feb. 17, 2021 during a virtual award ceremony and in a special print edition of the Times.
"Boston Real Estate Times' 10 Outstanding Women have emerged as key leaders in their fields from architecture to construction and from development to law, brokerage and all other aspects of commercial real estate," said Upendra Mishra, publisher of Boston Real Estate Times. "We wish we could hold an actual event to honor them as we have done in the past, but due to the current pandemic, we're going virtual this year."
Boston Real Estate Times, however, will publish a special glossy print edition that will highlight the contribution and achievements of the Outstanding 10.
The virtual award ceremony will be held on Feb. 17, 2021 from 9:30 am to 11:00 am. To purchase a ticket, please click here. For sponsorship opportunities, please email events@MishraGroup.com .
Here are the Boston Real Estate Times 10 Outstanding Women of 2021 in alphabetical order:
Jomarie Andrews
Partner
Hinckley Allen
Jomarie "Jorie" Andrews is a partner in Hinckley Allen's Real Estate Group. She focuses on a broad spectrum of commercial real estate, including purchases, sales and assemblages of real estate, development work, representation of landlords and tenants in industrial, office, and retail leasing, and representation of lenders and borrowers in financings. Ms. Andrews's practice includes work in the State of Connecticut and in other states, leasing across the country, and handling real estate aspects of business purchases and sales. Her experience includes all market sectors, including industrial, shopping center, retail, office, health care and automotive, and other business transactions.
Ms. Andrews's practice currently concentrates on industrial and commercial real estate development projects. On the industrial side, Ms. Andrews handled the acquisition and redevelopment of the largest (2 million square feet) warehouse in Connecticut from a large retailer needing to downsize and handled leasing to convert the property from a single tenant to multi-tenant user. Thereafter she negotiated and successfully finalized several new large leases with replacement users. Throughout this time, she has also been working on assemblages of undeveloped or underdeveloped parcels of real estate for leasing to large warehouse users such as Amazon. She is experienced in taking those projects from beginning to end, including diligence, contract negotiations, strategizing acquisitions, permitting, and utility availability, and is an excellent lease negotiator and closing counsel.
Ms. Andrews works closely with Hinckley Allen business lawyers on the real estate side of business mergers and acquisitions which always requires real estate input for acquisition or leasing of the underlying real estate. She is an active member of the Real Estate Finance Association, Commercial Real Estate Women, and the Real Estate Section of the Connecticut Bar Association, and serves as the chair of the Board of Directors of the Farmington Libraries. She also enjoys mentoring young lawyers in the firm.
Cappy Daume
Managing Director, Asset Management
The Davis Companies
Cappy Daume is an industry leader and is recognized as one of Boston's top real estate professionals. She is a member of GBREB, PREA, NAIOP, NEWIRE, and ULI, and has served on numerous leadership boards. As a Managing Director and Head of Asset Management of The Davis Companies, she is responsible for maximizing value within TDC's real estate portfolio and also serves on the firm's Executive and Investment Committee.
Most notably, Ms. Daume and her team oversee a wide array of high profile assets including:
· The Alewife Research Center in Cambridge, which was recently sold for $332.5 million
· 88 Black Falcon Pier in Boston's Seaport District, a redeveloped 376,000 SF waterfront, creative office, and urban industrial building
· Boston Market Terminal in Everett, MA
· The Quad in Cambridge, a new development/redevelopment 10-acre life science and innovation campus
· The Georgia International Trade Center in Savannah, GA, the Savannah metro area's latest large-scale Class A industrial park
· The Union Trust Building in Pittsburgh, PA.
In addition to these assets, Ms. Daume and her team oversee a portfolio of 4,000 residential assets in select high growth markets.
Through an agile learning skillset, a forward-thinking approach, and a relentless work ethic that can only be outclassed by her passion for real estate, Ms. Daume has led her team through unprecedented challenges in 2020.
Since the pandemic began, Ms. Daume and her team have remained competitive in the market; having leased over 100,000 SF of office space in the Boston area and supporting the close of the company's largest value-add real estate fund, Davis Investment Ventures Fund IV, LP, with total equity commitments of USD $777.5 million.
Suzanne Duca
Director of Research, New England
CBRE
Suzanne Duca joined CBRE/New England in 2011 as Director of Research. She coordinates the company's quarterly market reports and is responsible for the overall maintenance of the company's proprietary research database.
Additionally, Ms. Duca offers comprehensive research services to the company and its clients including internet research, available space surveys, market trends, and analysis of economic and demographic data. Prior to becoming Director of Research for CBRE/NE, Ms. Duca served as Vice President in the Marketing & Research Group at Colliers International.
Ms. Duca has been a mentor to young women starting in the industry, where it can be hard to get started. She brings her wealth of knowledge of both the Greater Boston commercial real estate and the industry as a whole to her as a resource to those who are trying to find their way, and holds herself and her team to high standards and hard work. Outside the office, she's also on the CBA Board of Directors and is involved in several other committees/organizations.
Julie Gray
Executive Vice President
McCall & Almy
Julie Gray's easy-going and friendly personality make her one of the most approachable people in McCall & Almy's office. She works with several major institutional accounts including one of its largest clients, Mass General Brigham, which accounts for over 80 percent of her time.
Working on numerous complicated deals at once, Ms. Gray's recent projects include the conversion of a long-term capital lease into a condominium interest to generate real estate tax savings and the relocation of a tenant whose building was being taken by eminent domain, resulting in significant savings. Both transactions had several moving parts and many parties at the table. However, her greatest professional accomplishment over the past twelve months was working on over 800,000 square feet of lease transactions, extensions, and building acquisitions for one of the firm's largest clients.
The value of the lease transactions was in excess of $300 million. The factors that made this an accomplishment included the complexity of the deal structures and the importance of the deals to the future of the client's business. The client recognized the work Ms. Grey put into the transactions, even commenting that she was "more than responsive and strategically well thought-out."
Ms. Grey feels that the tides are changing in our industry from male-dominated to more women in positions of power but is still challenging for young women to find a senior woman to look up to. Wanting to pay it forward, she has mentored a young woman in the office that started as the firm's receptionist but is now a vital member of her team. She feels the industry has come a long way since she started and sees many women in senior leadership roles, which has improved not only the workplace but helped younger women grow and advance in careers at McCall & Almy.
Susie Harborth
Executive Vice President, Business Operations
Breakthrough Properties
Susie Harborth is the EVP of Business Operations at Breakthrough Properties – over the past decade, she has been at the forefront of real estate innovation by developing a coworking platform for life science companies.
As a co-founder and COO of BioLabs, a national platform of premier coworking spaces, and an Advisor to Labcentral in Cambridge, MA (Kendall Sq), Ms. Harborth lowered the high barriers to entry for biotech startups, allowing female founders to start new companies. Ms. Harborth is a dynamo in the industry and only one of a few women who can bridge real estate and life sciences, making an impact on human health, especially during these COVID times.
Ms. Harborth is a thought leader and someone who deserves recognition for all her efforts to support an inclusive and diverse tenant base. She is a sought-after speaker and mentor, and an inspiration to women in all three verticals of real estate, life science, and venture capital.
Sharon Jozokos
Vice President, Healthcare
Columbia Construction
Sharon Jozokos has built a successful career on integrity, a passion for winning, and hard work. Ms. Jozokos has a vast knowledge base of the various means and methods to implement a construction project. That's what you get with over 25 years of experience in the construction industry. She earned her MBA at Boston College and she is a graduate of Wentworth Institute of Technology. As the Vice President of Healthcare at Columbia, she works closely with the team to bring best practices, organization, innovation, and passion to all Healthcare projects. Throughout her career, Ms. Jozokos has been involved with various complex construction projects, from small-scale renovations up to $200+ million of new construction. Her in-depth experience and hands-on approach make her a great team leader. She is a LEED AP and she holds an ASHE Health Care Construction Certificate. In 2013, Ms. Jozokos was honored by Wentworth Institute of Technology as "Woman of the Year."
When she is not in the office, Ms. Jozokos enjoys traveling and weaving in historical and educational experiences for her family, whenever possible. During her career, She managed to work in North Africa for 15 years and she was able to return there for a family Safari in the summer of 2018.
Since joining Columbia Construction, Ms. Jozokos has to lead the efforts in the firm's Healthcare group and is actively involved in many hospital-related projects. Recent projects include:
· Brigham and Women's | Mass General, Health Care Center at Foxborough Exam Rooms and CT Replacement
· Partners HealthCare, Mass General Primary Care Assembly Row
· Lahey Hospital & Medical Center, Ambient MRI, and Planning and construction of several pharmacies
· Hallmark Health | MelroseWakefield Hospital, Central Sterile Processing renovation
· Beverly Hospital, Cardiac Catherization Suite and Inpatient Tower AHU replacement
· Fenway Health, multiple renovations
Elizabeth Lowery
Principal and the Director of Interior Architecture
Elkus Manfredi Architects
Elizabeth Lowrey is a Principal and the Director of Interior Architecture for Elkus Manfredi Architects. A member of the firm's leadership team since 2002, she has both shaped the culture of the firm internally and been a public face for the innovative, human-centric design thinking that drives Elkus Manfredi.
A leader in the design of interiors for corporate, hospitality, retail, residential, and academic clients, Ms. Lowery has overseen the creation of a range of environments for clients including
Walt Disney Imagineering, Publicis Groupe, Boston Consulting Group, New Balance, and Equinox.
Ms. Lowery is an innovative pioneer in the design of branded workplace environments that enhance firm culture and organizational performance. Recognizing the inherent value of the office, Ms. Lowery knows that physical spaces are critical for innovative strategic thinking, mentorship, and culture. She is currently focused on the future of the workplace in a post-COVID-19 world. Her insights are helping companies establish their virtual workplaces to more effectively deliver some of the typically irreplaceable benefits of physical proximity.
Ms. Lowery's contributions to the regional real estate, business, and civic communities have been widely recognized. She recently joined the Greater Boston Real Estate Finance Association (REFA) Board of Directors and was named to the MassArt Foundation Board of Directors after being awarded an Honorary Doctorate in 2019. She is also a member of Auburn University's Interior Architecture Advisory Council, a board member of Heading Home, the Design Museum Foundation, and a Vice-Chair of the Young Collectors Night for the Park Avenue Armory Winter Show.
In the early days of the COVID-19 pandemic in 2020, Ms. Lowery launched an internal fundraising campaign to support Heading Home, a Boston area provider of emergency shelter, transitional, and permanent housing for low-income families and individuals, raising nearly $30,000 to fund 1,900 meals. Equally important, this initiative of the firm inspired five other local companies in various industries to introduce a similar model, creating their own internal fundraisers with employees and colleagues.
Juliette Reiter
Executive Managing Director
Newmark
Consistently operating at the highest level of life science real estate, with some of the most prolific clients (both occupiers and owners), Juliette Reiter is an outstanding mentor to emerging leaders within and outside of Newmark. She is a champion for diversity in real estate and an early adopter of life science as a specific asset class.
Ms. Reiter joined the commercial real estate firm Newmark in 2015 as an Executive Managing Director in the company's Boston office where she provides landlord and tenant leasing advisory services. She is a member of the life sciences team focusing on office and laboratory leasing in the Cambridge, Route 128 West and Suburban markets. Prior to commencing a commercial real estate career in 2001, Ms. Reiter was a regional sales manager at the Harpoon Brewery.
With a focus on life science tenant representation assignments, Ms. Reiter works frequently with early and mid-stage life science and medical device companies as well as on behalf of global pharmaceutical and research organizations. Her scope of experience advising office users
includes professional services firms, non-profits, venture capital firms, and technology companies.
Ms. Reiter attended Phillips Exeter Academy and the College of the Holy Cross. Afterward, she received a Fulbright Scholarship to live and teach in Germany. She is active in multiple real estate, alumni, and life science industry organizations, presenting and participating on panels regularly. She currently resides in Medford and enjoys traveling and spending time in Vermont.
Jill Sharif
Vice President-National Business Development
First American Title-National Commercial Services
As Vice President of National Business Development for First American's National Commercial Services Division, Ms. Sharif is responsible for the marketing and business development for First American's array of products and services. A 3-time winner (2019, 2015, and 2013- the award's inaugural year) of the DPK Circle of Excellence, an award that recognizes the highest performing members of the sales and escrow teams, Ms. Sharif has expanded the commercial title and escrow services across the country for First American's National Commercial Services Division.
She has worked on numerous complex projects throughout the country for all asset classes. She, along with many others, was honored with the CREW Boston Networking Award in 2018 for her contributions to the One Dalton project in Boston.
She was named the 80th CREW Visionary in 2020, a recognition for charitable giving to advance the careers of women in commercial real estate.
A leading voice in the title insurance industry, Ms. Sharif has participated on many industry panels, clarifying and expanding on title insurance, the application of UCC Insurance (EAGLE 9® UCC Insurance Policy for Lender's and Buyer's), Article 9 of the Uniform Commercial Code, and title insurance for real estate mezzanine transactions. She has also provided numerous presentations to companies that want a detailed look at UCC and other commercial transactions.
She is the Immediate Past President of CREW Boston, one of the largest CREW Network chapters, refocusing and leading the organization through the height of the pandemic, and is currently serving as the chair of CREW Boston's Diversity, Equity, and Inclusion Task Force. She is also a member of ICSC, NAIOP, REFA, and ULI (a member of the URC Product Council). Ms. Sharif is a graduate of the University of Connecticut.
Elizabeth von Goeler
Principal, Chair of External Relations
Sasaki
Elizabeth "Liz" von Goeler is a driving force behind workplace design in Boston and a highly regarded leader within Boston's AEC industry and among her 300 colleagues at Sasaki. Von Goeler specializes in commercial interior architectural design, with decades of experience reimagining and repositioning workplaces, multifamily housing developments, retail environments, and restaurants. She has led projects with local and global clients like PepsiCo, Microsoft, Cambridge Biomarketing, Vynamic, Oxford Properties, Boston Properties, toast, and Frequency Therapeutics. Notably, she led the building repositioning of 125 Summer Street and office relocation and workplace strategy for Fish & Richardson while at ADD Inc/Stantec.
In 2020, Ms. von Goeler was nominated to Sasaki's 8-person governance board. She is Sasaki's first-ever Chair of External Relations, where she focuses on business development, public relations, and branding initiatives that shape Sasaki's reputation and market position. Her rise at Sasaki has been swift, in recognition of her immense talent as a design visionary and business leader. Ms. von Goeler serves as the non-board co-chair for the CREW Leadership Academy, and previously served as President of Boston NAWIC. She is active with CREW, NAIOP, and NAWIC.
In 2019, Ms. von Goeler was celebrated as The International Interior Design Association New England (IIDA NE) as Business Leaders' Breakfast Honoree—recognizing an individual as a major force for elevating the quality of design within the region, as well as a strong advocate for professional development. Victor Vizgaitis, AIA, Sasaki's Chair of Architecture and Interior Design, said of her, "Mastery of any design aspects within the industry—be it design, marketing, professional development, or strategy—is a challenge that requires not just practice and devotion but also raw talent. To have such a fundamental understanding of all of them requires a very unique person indeed, yet Liz demonstrates again and again her complete comfort in navigating every aspect of the industry."
source: http://bit.ly/3nGgRGU